I'm such a sucker for posts/articles that tell you that in __ amount of steps you will achieve something - I'm always drawn to read them. This article on
6 Habits to a Happier Home
was one of them. It got me thinking, what six things would I say attribute to my home being a happy one.
one:
Teamwork
- This is a big one in our house. We both work hard so that neither one of us carries more of a burden in the home than the other person. I know this doesn't work for all families, but with JZ's schedule since he's a fireman and home a lot we share a lot of duties. We both share laundry and cooking, he does the shopping and the bills, and where I take care of the kids (not that he doesn't help with them, of course) and clean the house.
two:
Clean Kitchen and Bathrooms
- The house can sometimes get a little messy living with two little ones, but the one thing that keeps me sane (for the most part) is clean bathrooms and kitchen. I feel like all is ok and under control if they are clean even if the house is messy.
three:
Dinner as a family
- We both grew up eating as a family every night and we continue to do so to this day, even though we spend most days together. I feel like it is so important for families to sit together if they can, discuss their day, and make sure that lines of communication are always open.
four:
Staying within a budget
- Neither of us are BIG spenders. Sure the UPS and FedEx guy comes here often, but usually it's things we need. Of course we both shop for things that we want, but we are always careful to not spend more than we can afford. This definitely brings for a happy home because there are never fights about money.
five:
Light candles
- I have always loved candles! Most times one or two are lit at home. I love the smells they give off and I feel like they make our house feel inviting and warm.
six:
Entertain at home
- This is one of my favorite things to do, even if it's just our family or really good friends. I love sharing in conversation and laughter with our friends and I think it brings for such a happy environment in the house.
What are your habits for a happy home?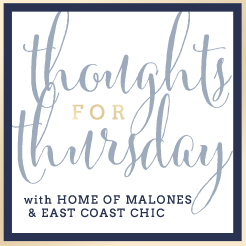 21 Comments »